My husband and I are moving from Rochester, NY to D.C./Maryland area, but the economy is so bad it's hard to find jobs to save up the money to move. A friend of mine was telling me that chatting with residents in those areas would be a good idea to get the ball rolling with support and assistance. We have a sister that lives Maryland already, but we would like to get to know some others who are good people and can be trusted to help us transition, find employment and housing.
For anyone who is willing and can assist us in this process, feel free to contact me via replying to this blog. My husband and I would really appreciate it.
Can't wait to move....It's really time to go.
Hotep (Peace)
RaEssence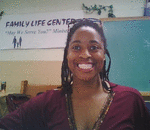 Posted By: Rakia Greene-Ra
Monday, March 30th 2009 at 2:04PM
You can also
click here to view all posts by this author...